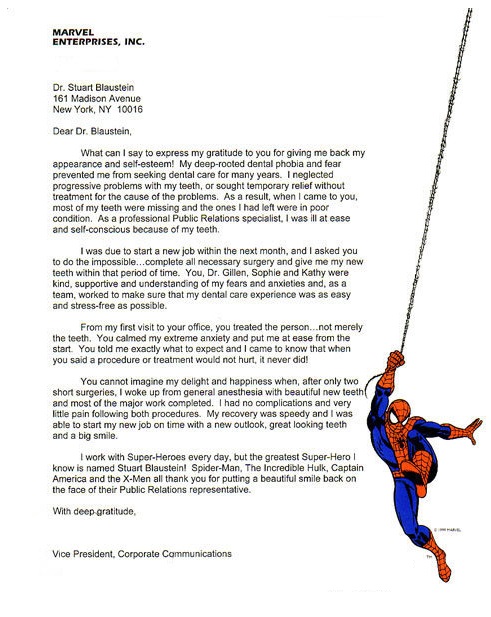 Dental needle phobic
I had a very bad experience with the dentist when I was little. The mere thought of a needle scares me to death. Because of this, I wasn't able to take care of my teeth well. I had a very bad toothache a few weeks ago. A friend of mine recommended this office.  I'm so thankful I went to see them.  I needed so much work plus the root canal for that tooth that hurt so much.  All the dental work was done under general anesthesia. I was so happy to sleep through the whole procedure. I highly recommend this office especially for people who are scared of needles like me. I give them 5 stars.
– Marianne H., New York, NY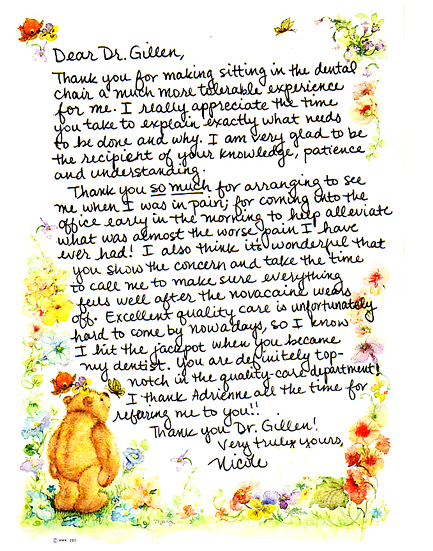 Dental drill sound phobic
I'm very scared of going to the dentist, especially when I hear the sound of the drill. It makes me very anxious and the dentist just couldn't work on me.  My dentist suggested to have my dental work done under general anesthesia, in that way I would just sleep throughout the procedure. He recommended this office and I'm glad I went to see them. It was a great decision. The work was done while I'm sleeping and I was happy with the result.
Nathan A., Stamford, CT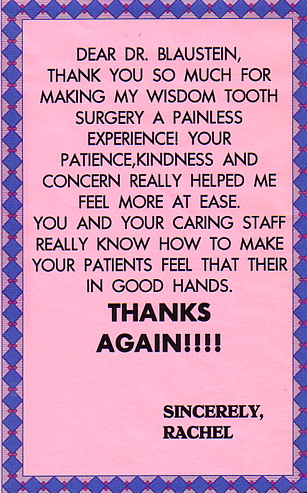 Severe gagger
I always have problems whenever I go for dental check ups/procedures. I am a severe gagger so my dentist has a hard time doing the work for me. I searched online and called this office that offers dentistry with general anesthesia. I went for a consultation and I'm happy that I did. They were able to do my cleaning, fillings and a crown while I was asleep.. I would recommend this place, they took very good care of me.
Richard S., Long Island City NY
Handicapped
My daughter is handicapped and unfortunately, she can't sit still in a dental chair to have her teeth examined and cleaned. I also noticed she has black stains in her molars and I was scared she would need more extensive work if we didn't take care of her teeth right away.  A friend of mine recommended Dr. Blaustein.  I brought my daughter to their office and I was so happy she was taken care of immediately.  All the dental work needed was done under general anesthesia. And good thing she only needed fillings and cleaning.  Had we waited, it would have been much more work. I recommend this office for anyone who has a handicapped person in the family.
Natalie R., Westchester NY
Schedule constraints
I'm a long distance truck driver.  My work time is not fixed, so I never know my schedule in advance. I know I have a lot of problems with my teeth but can't find the time to go on a regular basis.  I found this office online.  Doctor was great, he put me to sleep and fixed all my teeth problems in one anesthesia session.  I didn't feel a thing and now I don't have to worry about making several appointments and having to cancel them because I'm on the road.  This was definitely the way to go for me because of my crazy schedule.  Thanks Dr. Blaustein & his team for saving my teeth and my time, now I can have my nice smile.
Eduardo P., Bronx, NY
Tooth not numb "Hot tooth"
I have been to 2 different dentists to have some fillings done.  But the local anesthesia doesn't take effect on me, I don't get numb and it's making me nervous. I searched online to check who does sleep dentistry.   I came across Drs. Gillen and Blaustein and Lee.  I'm glad I went to their office and had the procedure done under general anesthesia.  Now I know where to go if I have any dental problems.
Cristina L., Jersey City, NJ
Local anesthesia allergy
I have an allergy to dental anesthesia, my lips and tongue get itchy and they swell up every time the dentist gives me the shot.  My doctor told me it's too dangerous to have dental injections anymore, I could die from them.  Thank God I found this office online.  We tried to do the work under general anesthesia and it was great.  Now, I don't need to worry that I will have allergies when I go to the dental office.
Kim C., Manhasset NY
I want to take the time to thank Dr. Lee and your staff. You have changed my life. I can eat things that I haven't eaten in years. Thank you so much for everything.  – Diane R
My family's experience at Diamond Dental & Sleep Dentry NY has been consistently positive.  The staff are warm, thorough, and attentive, as is Dr. Lee, who has a wonderful and honest rapport with his patients.  – Wendy R
– Kristie W
This may be hard to believe, but I enjoy going to the dentist.  Dr Lee's skill, kindness, and concern, along with the helpfulness of his staff, makes each visit a pleasant experience.
Three years ago, my periodontist referred to me to Dr. Lee following an extraction by another dentist. I was in considerable pain and, needless to say, very anxious. Feeling very much in crisis, I was first met by Karina and Claudia, both of whom were very attentive doing what they could to make me feel comfortable. (I've come to learn this is the manner in which all of the staff operates.)  Dr. Lee saw me over several weeks to resolve the underlying problem.
This occurred before he moved to his new state-of-the-art facility. He now provides my routine dental care, as well as orthodontics. He explains each procedure in depth and has made me a true partner in my care.
Dental work was never a highlight of my life, but I'm very grateful to Dr. Lee. If anyone wonders as I extol his virtues, or how I can say I find a dental experience pleasant – he or she has not met Dr. Lee or his staff yet.    – Marcia G
Dear Dr. Lee, I want to take this time to thank you for the quality of work and the attention to details with my implants.I thought the process would have taken longer, be more difficult and painful.  I was so relieved that overall it only took a few hours and the process was painless.It felt so good to smile again, and to let you know, I have already received many compliments.  Once again, thank you for the great work.  I wish you and your family a very happy and healthy holiday and New Year.  
– From A Very Happy Patient